How is it this time of year already? Christmas is just around the corner, and I am so excited to get into the holiday spirit.
This year, I'm going to give you a great way to incorporate some warmth and rustic charm into your home with a roundup of my all-time favorite Christmas wood decoration ideas!
It's the perfect way to add some DIY Christmas crafts to your home and use up some of those leftover wood pieces from your other DIY projects throughout the year.
Grab some wood from the scrap wood pile, and let's make these wooden Christmas crafts.
This post contains affiliate links to websites outside of LostandFoundDecor.com. It does not cost you any more to shop through these links, but I will earn a small commission.
Wooden Plaid Christmas Tree DIY Craft
Need a little holiday cheer? I've put together the simplest and cutest wood Christmas tree crafts! I promise these little trees are an easy project for anybody to make. To create this fun little holiday decor item, all you need is:
I made two trees of slightly different color plaid patterns. I painted one white because it will be the background for the white plaid I chose.
The second tree I left as raw wood because I used a darker plaid. I used the Redesign with Prima Red Gingham Transfer to add the plaid design onto each slat.
For each slat, cut off a piece of the transfer to fit. Then, peel back the wax paper and apply, sticky-side down, to the wooden slat.
The red plaid design can go on your unpainted tree, and the white plaid design over the tree you painted in white.
Rub the design onto the wood using the wooden tool that comes with each transfer. I wrapped the transfer just a bit around the edge of each slat, but not all the way around.
Then carefully peel back the top piece of clear plastic, leaving just the transfer behind. And you're done!
After you apply the transfer to all the slats, you can finish off each tree by painting the base, back and side edges with your black paint.
I think these little trees will bring a beautiful rustic look to any space for Christmas! I can envision these wooden Christmas trees in a living room or even as outdoor Christmas decorations as part of a vignette on a front porch.
Now, if you're just here for Christmas wood decoration ideas, you can jump to some great craft projects made by my blogging friends further down. But if you're up for learning creative ways to add vintage charm to your home on a budget this year, here are some ideas!
Vintage Photo Art
Several years ago, when my grandmother passed, my dad gave me a box of old framed photos that had been in her collection.
Looking through the box, my favorite thing I pulled out of the box was this 5 x 7 photo of a little boy talking with Santa.
After a little investigating, I found that the boy in the photo is actually my Uncle Jim, the eldest of my grandmother's three sons.
Compared to the pictures with Santa my kids take each year, this is an artistic masterpiece!
I love the grainy texture of the print, and the expression on my uncle's face is priceless. And for goodness sake, is that not the best Santa you have ever seen?
The whole composition of the photo just speaks of the timeless magic of Christmas to a child. I absolutely adore it.
If you want to print off the photo, I have made it available here to download.
I realize some people may think it strange that I am sharing a personal family photo, but I believe there's no better way to help my uncle's memory live on and to share his story with you all.
What does this have to do with wooden Christmas projects? I think if you print this photo off, the best way to make it shine as one of your DIY Christmas decorations is to make or purchase a simple wood frame for it. This would really bring out the vintage feel of the photo and emphasize its classic Christmas feel.
Family Style Christmas Decor on a Budget
Now, let's talk about adding some holiday cheer to your home on a budget. I'm a big believer that you don't have to spend a fortune to have a beautiful and festive home, so I want to share how we "merried" up our kitchen last year for pennies. Here are my tips for creating happy holidays on a budget:
Repurpose Items You Already Have
Look through décor items you already have, and pick out a few neutral and classic things. With natural elements like a little greenery or some string lights, you can incorporate those things into your holiday décor or use them to fill in extra space in your display.
DIY What You Can
Sure, pre-made wreaths and greenery are gorgeous but also pricey! DIYing a wreath isn't that difficult, and you can get a similar look for a fraction of the price.
Raid Grandma's Attic or the Thrift Store
Only one piece of the beautiful Christmas decor in my kitchen was purchased in the last 12 months. Everything else was either handed down to me by relatives, made by my kids, or bought at a thrift store.
Now, I want to share how I used these tips myself in our family-style Christmas kitchen!
The kitchen is where I put all of our "fun" decor–all things Santa-related, the red and green, and all the goodies my kids have made for me over the years.
Can you spot the pine cones in a pot that count as the "wood" project in this room?
These types of crafts are why I'm calling it "family-style." It may not be super chic, but it makes me smile.
I hope you will enjoy it as well, and can spot all the ways I followed my own advice.
Christmas in a Box
I found this adorable red and green painted primitive drawer at a recent flea market, and it was just begging to be turned into a Christmas decoration.
One of the simplest tricks to making your decor stand out is to gather your decorative items together and group them in or on some sort of object–a crate, tray, box, etc.
Grouped together, small items can form a cohesive display and have a bigger visual impact.
To create my box, I placed some crumpled up paper in the bottom of the box to act as filler, then piled in a set of vintage ornaments I have, passed down to me by my grandmother.
I also stuck in a few Dollar Tree floral sprays to fill in the gaps.
The vintage look of the wood box was perfect for the vibe I wanted to create. There really is something lovely about old wood, isn't there? You could also use scrap wood and make your own box if you can't find one already put together.
You could make your own Christmas in a Box with any small holiday decorative items you have lying around!
This is a great way to display Christmas porch decorations as a little vignette as your guests come in the front door, or it would also look beautiful in the living room on your mantel.
I might even try it under the Christmas tree as an "opened present" to create a festive mood before the actual day arrives! If you don't have a vintage wood box, old gift boxes would work perfectly for this last idea.
You can really see how you can use your imagination to make this simple DIY your own.
Need some more Christmas Wood Decoration Ideas?
Love the look of all things wood for Christmas and want more ideas? Check out these five other wooden Christmas decoration ideas from some of my favorite blogger friends!
How to Make a Wood Pallet Sign
This detailed tutorial on how to make large DIY pallet wood signs will walk you through building, painting, and sealing your new sign in a few clear steps. Using a few supplies from the home improvement store, you can have your own unique Christmas décor to display in your home
This sign is easy to make, inexpensive, and only requires some basic tools, but the creative options are endless! Visit the post for a full materials and instructions list.
DIY Let it Snow Wood Sign with 3D Snowflakes
It just isn't Christmas without snow! This Let it Snow sign is perfect for your Holiday mantel. Using some basic tools and craft supplies that you may already have on hand, you can make this eye-catching piece (about 28″ high). You will need:
Scrap wood pieces

Hot glue

Vinyl stencil (pre-made, or or cut with your Cricut or Silhouette machine)

Paint

Wooden snowflakes
Grab your tools and supplies and head over to The Handyman's Daughter for step-by-step instructions and free cut files!
Easy DIY Wood Slice Christmas Tree Sign
If you're looking for a fun handmade gift idea for a Christmas exchange, this might be your answer!
This DIY wood slice Christmas tree sign adds a rustic decor touch for the winter season.
All you need is a painted (or not) piece of wood for your background, some pretty wood slices arranged in the shape of a Christmas tree, and a "tree topper" of your choice!
Decorate it with pieces of faux greenery or anything you'd like to give it your own Christmas spin. And that's it!
Your rustic Christmas tree sign is all ready to take to that gift exchange – or hang it up on your wall.
Simple DIY Farmhouse Sign for Christmas
Learn how to make a simple DIY farmhouse sign for Christmas using a custom stencil!
Making a simple DIY farmhouse sign for your home is a budget friendly way to add style to a space. And what's better than a DIY antler sign for Christmas?
By adding some Christmas greenery, these antlers become a lovely seasonal decor piece. Felt flowers and leaves could also give the sign a more feminine feel too. Whatever you want!
This project uses a custom stencil, allowing you creative license to make it whatever you want. Come get the supplies list and step-by-step instructions to make this antler sign happen for you this holiday season.
Wood Christmas Tree Forest
Do you have a pile of scrap wood from all your DIY projects throughout the year? Why not use it to create this cute Christmas tree forest?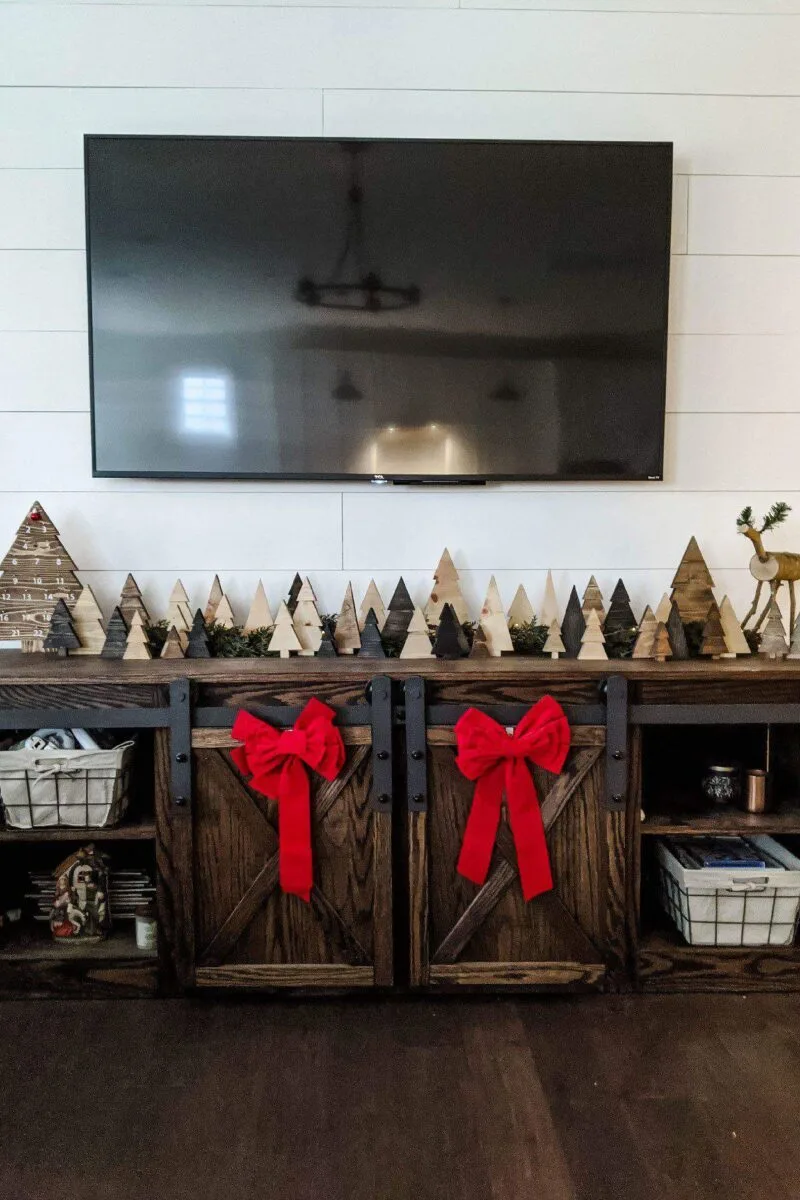 You can make about 50 trees in less than 2 hours. They are super simple, but look so good!
You can place them anywhere in your home for the holidays. Your mantel, as part of a tablescape, or any other place you see fit! The best part is this lovely little scrap wood tree set costs nothing to make.
No matter how you choose to decorate the holiday season, I hope that you add special pieces of yourself and your own ideas.
I also hope that you found some inspiration with these Christmas wood decoration ideas and are feeling more inspired as the holidays draw closer.
Make sure to share your creations and DIY ideas with me, I can't wait to see them all!
Interested in making some fun DIY Christmas Signs? Make sure you didn't miss this post!
RELATED POST: 8 Fun and Festive DIY Christmas Signs for the Holiday Season