Do you have an antique mall booth and need help knowing what to sell throughout the year?
Even if you just have a small booth, managing the constant in and out of inventory can be overwhelming! Not to mention the ever-present need to hunt and source your vintage and antique items.
It's time though to simplify your inventory plan so you can have a more successful vintage booth–one that runs on a "rinse and repeat" pattern of stocking the same types of items as the seasons pass, so you always know what to look for when you're out shopping.
To help you in your journey as a vintage booth owner, I have a great guide to share with you today that will help you know what vintage items sell best during each season.
Let's get your inventory organized and a plan in place so you can have a successful booth business.
An Antique Booth Business is a Seasonal Business
Selling in antique malls, like most other retail stores, is a seasonal business. And that's not a bad thing! I've always treated my own booth like it's part of these natural retail cycles, and it's worked well for me.
Often as booth owners, we toss into our booth space whatever items we've found recently while shopping the thrift stores or garage sales, giving little thought to what our customers may be looking for. Whatever new items we find are what we try to sell.
One of the best things we can do for our business though is to get a little more disciplined with our inventory and learn how to ride the seasonal rhythms of retail. If we can connect with what's happening in the world and in our customers' lives, we will see increased sales, which means more money in your pocket.
Matching the type of items and home decor you sell in your booth space to the changing needs and feel of the seasons is a great way to create regular customers–ones who will shop with you over and over again as their needs and wants change throughout the year.
Month-by-Month Guide for Staging & Inventory in Your Antique Booth
January and February: Post-Holiday Refresh
Right after the holiday season, it's easy to think that nothing will sell, but that's not entirely true. There is often a little bit of a dip after the holidays, but it doesn't have to be a time of low sales.
People are transitioning from the holiday hustle and bustle and are looking for simplicity and freshness.
Think about your own home–what are you looking for after you put away all that extra holiday decor? Mostly, just a clean slate to start the new year.
Think of a crisp, cold feeling – it's time to use lots of whites and various shades of blue to mimic that icy, clean sensation.
People are also organizing their homes after taking down holiday decorations. So, items related to organization, like old filing cabinets, bookshelves, and storage solutions, are in demand.
And while this tends to be the coldest time of year, anything that helps create a warm and cozy atmosphere is also a hit. Think vintage quilts and candles to invoke that coziness.
Lastly of course, Valentine's Day is right around the corner, so you can incorporate reds, pinks, and whites into your booth as that holiday approaches.
Individual Items to Stock or Display for January and February:
Baskets and storage solutions
Desks, filing cabinets, and bookshelves
Accenting your space with bare branches and berries
Winter-themed vintage art
Vintage valentines
Red & White Transferware (for Valentine's Day)
Quilts, blankets, and candles
Furniture painted in blues, blacks, and whites
March and April: Springtime Vibes
These months are when people are starting to think about spring, even if it doesn't quite feel like it yet. It's all about fresh, lively colors and creating a sense of new life.
For these months, Greens and pastels are your go-to colors. As nature awakens, so should your booth.
Consider selling greenery, vintage seed packets, and anything related to gardening.
Vintage china, milk glass, and white ironstone are also popular because they're perfect for spring weddings and entertaining.

Specific inventory ideas for March and April:
Greenery, vintage seed packets, and gardening items
Vintage china, milk glass, and white ironstone
Live plants, planters, and houseplant-related items
Bunnies, chickens, eggs–anything Easter related
May, June, and July: Summer Fun
In May, June, and July, the weather is getting hot, and people are excited about summer vacations and travel.
This is a good time then to add warmer, saturated wood tones and deeper colors to your booth. Also you can use a lot of red, white, and blue decor for the Fourth of July, and items related to water, like seashells, nautical decor, and ocean-themed art.
Keep that vintage china and milk glass coming in the summer as well! These items are popular for summer events like weddings, baby showers, and bridal showers.
People are also looking for vintage items related to hobbies, such as fishing gear and old sports equipment. So bring out your fun toys and vintage recreational items these months as well.
Specific inventory ideas for May, June, and July:
Travel-inspired items, like old maps, travel souvenirs, vintage suitcases
Vintage camping gear
Seashells, nautical decor, and ocean-inspired art
Vintage toys, yard games, and sports equipment
Patriotic decor for the Fourth of July
mismatched vintage china and flatware sets
milk glass vases
August and September: Months of Transition
August and September are transitional months. It's still hot outside, but people are starting to think about going back to school.
For sure you can start bringing in warmer wood tones and colors, and move out your summer decor.
Focus on back-to-school items, like old school desks, maps, and children's books. You can also include more storage options, like baskets and bins because people want to organize their lives as they head back to school.
By mid-September, you can start sprinkling in some fall items, like pumpkins, scarecrows, etc.
Specific inventory ideas for August and September:
Back-to-school-related items, vintage school desks, books, school maps, art supplies
Storage solutions for getting organized
Fall-themed decor, pumpkins, scarecrows, wheat or leaf-themed glassware
Mantels, architectural salvage
Warm wood furniture
Earth toned pottery, crockware, and vintage kitchen utensils
October, November, and December: The Holiday Season
In October, it's time to pull out your black decor for Halloween. It's good to give a shout-out to the holiday, even if you don't have a lot of Halloween-themed items.
In mid-October, start thinking about Thanksgiving and pull out your fall decor, including pumpkins, leaves, and turkey-themed items. The Thanksgiving selling window passes quickly, so don't miss this small bit of time!
This is a great time to focus on dinnerware, glassware and serving ware as customers prepare to host the holidays. All think about anything else that can be used to set a table–vintage linens, placements, napkins, napking rings etc.
By November 1 at the absolute latest have your Christmas decor ready! Think sparkly metallics (vintage silverplate, copper, and brass items), and everything red and green.
It's important to remember that you can use non-holiday items in holiday colors and textures to create a festive atmosphere. For example, a stack of vintage red books goes from patritotic decor in the summer to instant holiday decor this season!
You don't need to go out and buy all new holiday decor! Try repurposing and rearranging items you already have to create a fresh, holiday-inspired look in your booth.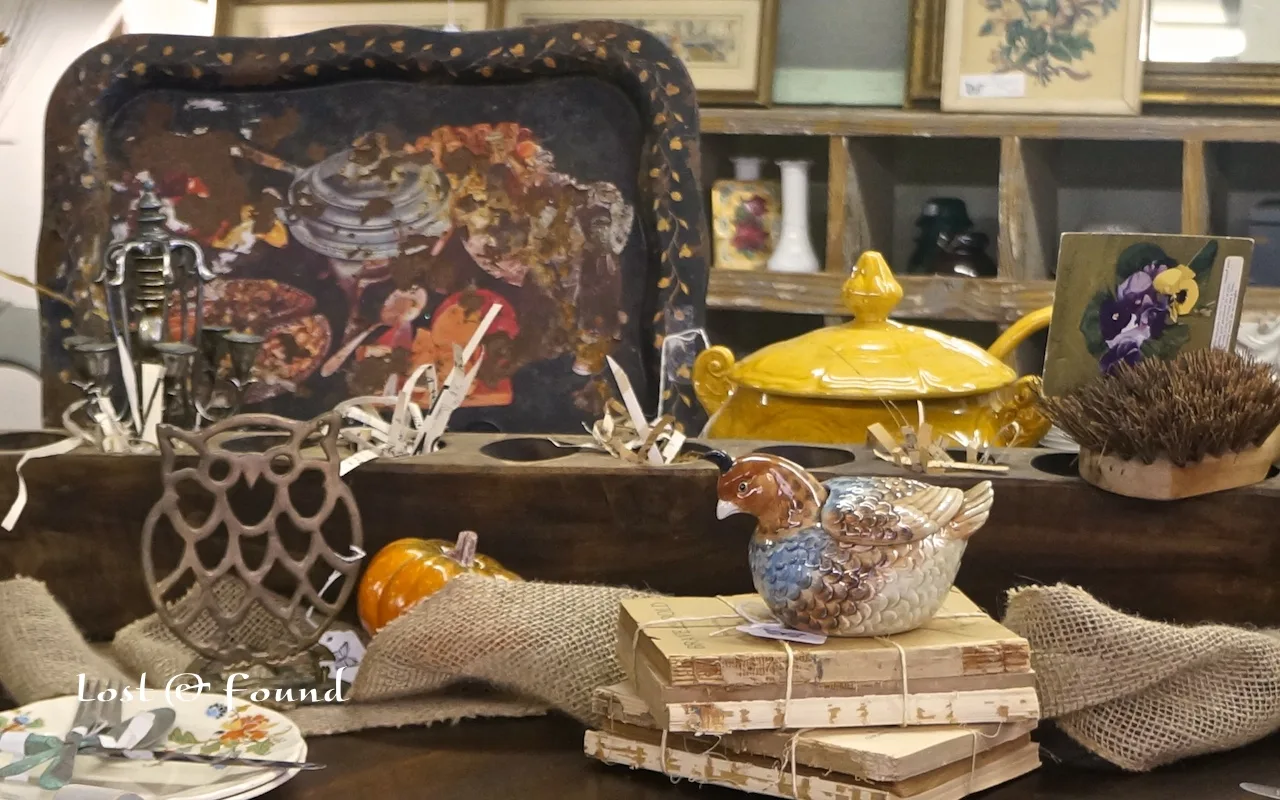 Specific inventory ideas for October, November, and December:
Halloween-themed items
Black picture frames, black bird statues, old portraits
Hunting-themed items to create a cozy feel
Vintage copperware
Serving pieces for Thanksgiving–trays, plates, bowls, pitchers
All tableware items–linens, placemats, napkin rings
Silverplate bowls, tea sets, candlesticks, cake platters
Christmas decorations (indoor and outdoor)
Anything glittery and metallic
Other non-holiday items in red and green holiday colors
Old sleds, wooden skis, and ice skates
Leather furniture
Final Thoughts on Seasonal Antique Booth Displays
Antique dealers are always battling against the urge to buy more and more inventory, often way more than you actually need to keep your booth well stocked. As you're working to fit your booth space into the natural rhythms of retail, remember that this is not a call to go out and buy all new inventory for each season!
Oftentimes, you can repurpose and present your existing items in a new way that fits the current season. Switch up your vignettes and greenery accents, play with colors, and cater to the seasonal trends to make your booth fresh and appealing.
With this month-by-month guide, you can stay ahead of the curve and keep your antique booth display relevant and exciting throughout the year. Keeping your antique booth inventory in synch with the natural rhythms of retail seasons is a good thing for both you as the booth owner and your potential customers.
The first time you work through a year with this seasonal guide in mind, it will feel like a lot of work. But keep at it, and I promise you will soon find yourself in a pattern that actually takes less time to manage than randomly filling your booth with whatever you happen to find.
When you know what specific items, colors, and textures you're looking for, you can shop with purpose and stop wasting time picking through what you don't need. You will also be delivering your customers just the right items at the right time, which means better sales and happier shoppers.
Looking for more help with your antique booth business? Check out these posts:
5 Reasons You Aren't Making Money in Your Booth or Vendor Business
4 Ways to Jump Start Your Antique Booth Sales
51 Ideas for What to Sell in an Antique Booth 2023