Happy New Year!!
I hope everyone had a wonderful holiday time. For our family, this past holiday season was as full as ever–with trips to see family, kids' Christmas programs, and what seemed like a million gifts bought and wrapped!
I don't know about you, but after the busy hustle of Christmas time, I always enjoy the fresh feeling that comes with the start of the new year.
It's like we all take a collective deep breath . . . and then get our heads back on straight as we start off again on normal life!
I also like taking time at the new year to look back and look ahead.
There's nothing magical about January 1st that makes it a better day than any other for setting goals, but call me sentimental . . . there's something about a new, clean calendar that gets me all excited.
In that spirit, I've been working a lot lately on really analyzing Lost & Found. As my business has grown and changed, I'm hoping to nail down what I should really be about in this coming year.
I've got lots of plates spinning–blog, retail space (both local and online), custom furniture painting, workshops, business consulting–it makes my head feel a little dizzy as I even type it out!
So for starters, I went back through my 2016 posts to find the 5 most popular ones, and I am really surprised!
Every year my top 5 posts seem to be almost exclusively furniture makeovers, but this year there is only one makeover on the list. Interesting . . . It looks like your interests are changing a little!
Let's take a look at this list 🙂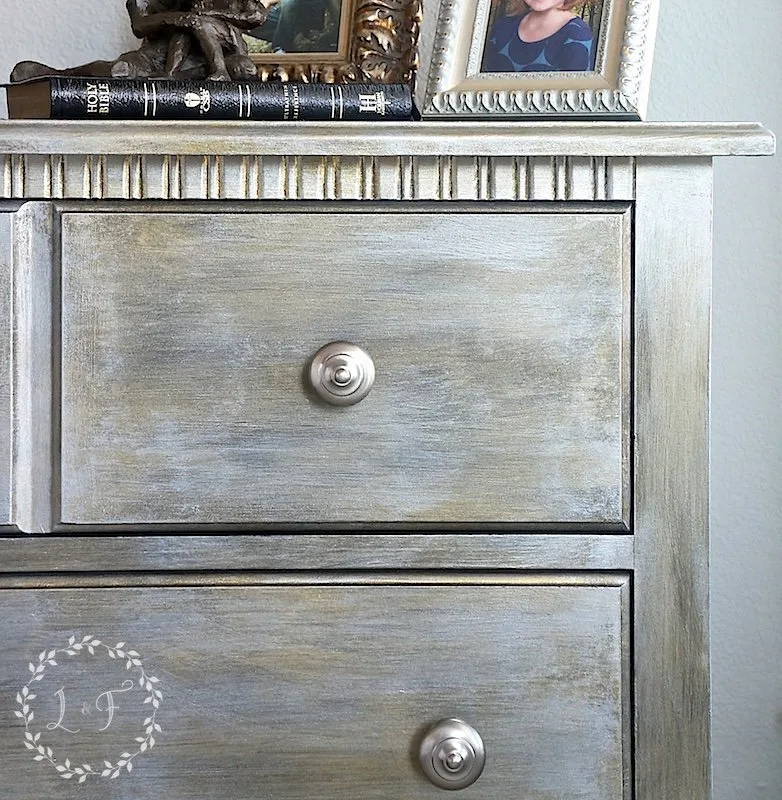 Here is the one furniture makeover on the list! A repeat client of mine wanted to take her basic, mass-market nightstand and turn it into something really unique. I created this layered metallic look for her and it was a big hit!
See full post here.
My never-ending kitchen makeover, aghhh! This project took off on Pinterest, and that's what helped it make the Top 5 list.
See full post here.
I have always enjoyed writing posts that share what I've learned about running my own small business.
This post has been particularly popular and I've gotten lots of really positive feedback from readers who found it helpful–which feels so great! Helping others is the main reason why I write this blog.
See full post here.
This was another really gratifying post for me to write. I thought long and hard about how I was going to get the look I wanted on my kitchen island cabinets, and when I found the right technique I was so excited to share it!
See the full post here.
I was totally shocked that this post made the Top 5!
I completely nerd-ed out in this post by sharing all about this obscure type of wood veneer, and I had no idea people would find it so helpful.
See full post here.
So there you have it!
Looking over this list has given me some insight into what type of things I will try to share more of in 2017.
But I would also love to hear straight from you
What kinds of posts do you want to see more of?
What are the posts you find most helpful?
Here's to a creative 2017!