Are you in need of a little green painted furniture inspiration?
Here's a collection of 6 gorgeously done makeovers to help jump start your own creative juices!
To start off, here's a piece I recently worked on . . .
This post contains links to websites outside of LostandFounddecor.com. These links are provided for your shopping convenience and are called affiliate links. It doesn't cost you any more to shop through these links, but I do get paid a small commission. Thanks for supporting this blog!
Isn't it cute?
I love those curvy front legs, and anything that comes with original casters (side note, why doesn't all furniture come on casters? Life would be so much easier!)
I decided to try out a new color (for me) on this piece, Miss Mustard Seed's Milk Paint in Boxwood.
I've been painting a lot of blues and whites lately for pieces to go in the Studio, and I was getting kinda bored . . . so time to freshen up with something a little more lively!
I did my typical milk paint prep for this piece . . . which was nothing 🙂
I usually do very little prep when I'm using milk paint, because I like to let the paint chip and do its thing, and the best way to get some chippiness is usually to leave the piece alone.
Also, this was an old piece and the original finish was really worn down, so I had a good feeling the milk paint would adhere just fine (which it did!).
When you're using milk paint, don't freak out after your first coat. It always looks terrible!
Just keep at it, and usually by the second or third coat, you will see nice, consistent color and opaque coverage.
Also, whenever you're using one of the greens from the MMS line (Boxwood or Lucketts Green), you need to keep mixing that paint the whole time you're using it!
The yellow pigment tends to separate as the mix sits there, so you'll wind up with your last thing painted being a totally different shade of green than the first thing you painted. So mix, mix, mix!
Another thing about this color (and many of the darker MMS colors), is that they really come alive when you top them off with Hemp Oil.
You can see in this photo where I have brushed on the Hemp Oil, and how much of a difference It makes! It also seals your paint, so it's a great last step for your painting process.
If you want to learn more about all your options for sealing milk paint, I've written a full post on that topic here!
Here it is all finished!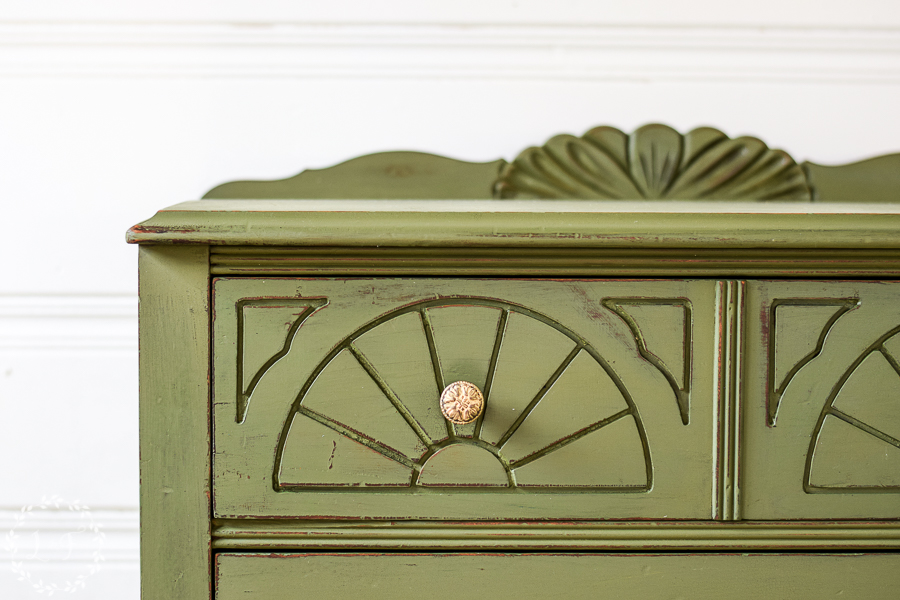 The paint really didn't wind up chipping anywhere, so I just took some 220 sandpaper and lightly distressed along the edges and carvings to add some depth to the finish.
I kept the front legs natural and Hemp Oiled them as well, and I like how they turned out!
So this piece was a big hit . . . it sold in my Studio in about a week! So if you ever think only white furniture sells . . . Remember this little green chest!
Just for fun, I've put together a round-up of a few other green painted furniture pieces from some talented fellow bloggers!
I hope they inspire you to give green a try!
Layered Chalk Paint Green Empire Chest
by Denise at Salvaged Inspirations.
High Gloss Green Chest of Drawers
Chalk Painted Green Short Dresser
by Natalie at A Ray of Sunlight.
Bespoke Color Milk Painted Washstand
by Jen at Eight-Hundred Furniture.
Boxwood Green Milk Painted Chest
Another look at Boxwood, from Vicki and Kristen at Timeless Creations
I hope you enjoyed these pieces and maybe decide to give green a try for yourself.
Remember, whenever you begin any new project, repeat to yourself: "It's just paint…It's gonna be ok."
Don't forget, you can shop for many beautiful green paint colors with me in my online shop!
Wanna See More Colorful Painted Pieces?
7 Bold Color Combinations for Painted Furniture
Painted Washstand with Red Milk Paint
Italian Provincial Chest Makeover with Fusion Mineral Paint Park Bench
Cranberry DIY Side Table Makeover