Happy February Everybody!
With the start of a new month, it's time to introduce my February Fusion Color of the Month: Cranberry.
Darker and richer than Ft. York Red, Cranberry is more of burgundy. It has great depth as a color, and will definitely make a statement in your space!
It pairs well with the grays of the color line, like Bedford, Sterling, and Ash. And personally, I think it looks fantastic alongside Midnight Blue as well.
To showcase the color this month, I found a cute little side table to makeover.
Since it's such a bold color, Cranberry is probably best kept to smaller-scale or visually-light pieces, so this table was the perfect find.
It was structurally sound, just needed a cleaning and light sanding.
The table top itself was pretty glossy, so I made sure to take a few extra minutes to lightly sand that finish, just to open up the pores of the glossy varnish.
QUICK TIP:
I always do a bit more sanding on glossy finishes before I paint–better safe than sorry!
2 coats of Cranberry provided pretty good coverage, but there were a few places that needed a third.
I used my small round brush on the whole table, but then switched to a foam roller for my final coat just on the top only–so I could get a flawless finish on that surface.
This table had some great detail on the legs, and I wanted to highlight that by adding in more depth and contrast to the finish.
I had a new product on hand to try–Homestead House's Black Furniture Wax–and I thought the black sheen would look fantastic with the Cranberry.
I thought Fusion doesn't need wax?
So you may be wondering why I used a wax to finish off this table . . . since Fusion doesn't have to be sealed with a wax!
Well, my motive was purely cosmetic–I knew the Black Wax would do a great job settling into the details and grooves of this table and would also tone down the Cranberry just a bit.
I could have used a black color wash, but the effect would have been more drastic.
The Wax is very forgiving and you can apply it only in the areas you want it to be.
It will settle into the grooves and recessed places of the piece, and then you wipe back the excess. A color wash will give you more all-over color, which wasn't what I wanted.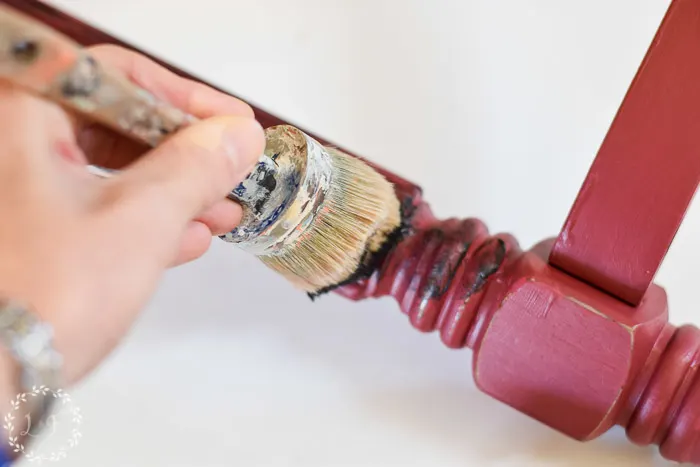 If you follow me on Facebook, you may have seen the video I posted last week showing how I applied this wax (missed it? You can see it here).
This stuff really is amazing! It's so soft and glides on smoothly. There's no need to mix it with or apply a clear wax first either like there is with some dark waxes on the market.
Using my brush, I pushed the wax into the recesses of the table, then wiped off the excess with an old t-shirt. It was that simple.
After it dried for 3-5 minutes, I buffed it a bit with the same rag then left it to finish drying.
Here is the table all finished up!
The Cranberry color is perfect on this little table!
Now it's a statement piece and would be so cute next to an upholstered chair in a reading nook 🙂
You can see some hints of that Black Wax in the recesses on the legs–just enough to add some depth.
And the super-smooth top . . . Finished out with a foam roller.
So this color is a little out of my comfort zone, but I am so happy with how this project turned out! Sometimes you have to take a step and try something different to get your creative juices flowing.
Can you see adding a little Cranberry into your space?
If you've used this color to paint something or try it out this month, please comment and share! I would love to see how you use Cranberry.
And as always, if you don't have a local Fusion Mineral Paint Merchant, my online shop is always open and is fully stocked with both Cranberry and the Black and Espresso Furniture Waxes.
You can visit my shop by clicking below 🙂
Thank you for visiting with me today!