I have a great makeover to share with you today!!
I've been doing a good bit of painting over the past week or so, trying to fill in my empty antique mall booth space.
For most of November and December it was full, but then something happened in early January, and virtually everything in my booth sold. That's a good problem to have, I guess!
But it left me scrambling to find some makeover pieces, and I now have 4 awesome pieces in my garage (well, 3 now that I've finished this one).
Y'all know I don't really like just painting things white–I get bored with that real quickly.
But, you have to go with what the piece tells you about its style, and sometimes that means a simple white is a perfect fit.
This chest of drawers isn't an old piece, but still has great bones and a really nice shape.
I knew white would work well with its elegant style, plus I've been wanting to try the new white in the Fusion Mineral Paint line, Raw Silk. It's been getting rave reviews by other merchants and bloggers, so I popped open a jar and went to work.
Prepping the Piece
To prep this piece, all it needed was a wipe down with some degreaser and a very quick and light sanding with 220 grit sandpaper–just enough to open up the pores of the finish.
To make the distressing I wanted to do later on easier, I rubbed the edges with the Beeswax Block before I painted on the first coat.
Seriously, this little block of wax is awesome!
I have been using the same block for almost 2 years now–all it takes is a quick rub on any area you want to distress and the paint comes right off later with the slightest touch of sandpaper.
It's my favorite little trick 🙂
I was impressed with the coverage of Raw Silk and its smoothness. It took three coats to get the full coverage I wanted, which is about average for white paint going over dark wood.
I think along with Champlain, this will be my new go-to white.
Here is the chest all finished up!
Raw Silk is a lovely, clean, white.
It's not a pure, bright white like Casement or Picket Fence, and much less creamy than Limestone. I would say it's closest to Champlain, but a little brighter.
The finish is nice and smooth, with just a touch of distressing along the edges and details.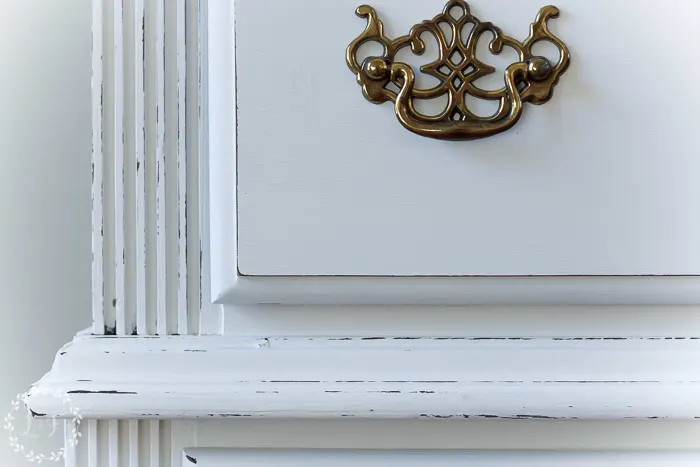 Paint Brush vs Roller
I get asked a lot if I do my painting with a brush or a roller, and what's the best way to get a smooth finish.
Personally, I prefer brush painting, and that is what I do 99% of the time (using my round Staalmeester Brush).
I have used a foam roller a few times on a tabletop to get it super-sleek, but most of the time I find my brush does a great job. If you prefer though, you can totally paint Fusion using a small microfiber roller.
I really like the curved detail on the bottom of this chest. It's hard to see in the pictures, but the middle piece of trim curves inward as it goes down towards the floor, which is something I haven't seen a lot.
I had fun playing with the staging for these photos, in case you can't tell 🙂
There you have it!
In a few days, this will head up to my booth space to fill in some of my empty room!
And if you're looking for a new white to try, Raw Silk gets my vote.
Of course, if you don't have a local Fusion Mineral Paint Merchant you can shop the full line of products in Lost & Found's Online Shop.
Click on the photo below to take you straight there.
Thanks so much for joining me today!