Hey Friends!!
I've got a new furniture makeover to share with you today!
Ya'll know how I love any piece of furniture with cane, so when I saw this coffee table at my local Habitat for Humanity Restore I snatched it up!
See that caned shelf on the bottom??! Score 🙂
I also was kinda feeling that patterned wood top.
What would that look like sanded down and refinished?
Well, after debating for a week or so on what direction to take this piece, I decided to go with an easy gray. I really did want to refinish the top, but the more I investigated that patterned wood the more it confused me.
I wasn't 100% certain it was real wood–maybe just a stamped pattern on to of a big piece of plywood?
So to avoid any serious issues trying to sand it down and re-stain it, I decided just to paint the top too.
(**HINT, this was a big mistake! Which I will talk about more in a minute…)
To prep the piece, I cleaned it well with Simple Green (my favorite degreasing cleaner) then wiped off the residue with a damp rag.
The top again started giving me issues–it felt like there was still some sort of icky residue on the top after I cleaned it, but I decided to let it go
After cleaning it, I gave the whole piece, except for the cane shelf, a quick scuff with some 180 grit sandpaper, then wiped off the sanding dust.
I decided to go with Fusion Mineral Paint Bedford for the base coat of gray, then I wanted to do a wash on top of Champlain to help bring out the details in the carved legs.
I really like the warm tone of Bedford. It's kind of a Frenchy-style gray, rich and with just a hint of an olive green undertone.
It's one of those colors that doesn't look so great in the jar, but once you get it on a piece it's gorgeous!
So I painted on my 2 coats of Bedford and all was going fine!
To get to the base of the table easier I improvised this little "table" of sorts using my garage trash can, lol!
Sometimes you gotta work with what you got!
Once the last coat of Bedford was nice and dry I watered down my Champlain and applied it over the whole coffee table like a wash–brush it on, then wipe back the excess.
This was where the problems started . . .
First, the wash of the white Champlain settled into some of the grain of that patterned wood top–not all of the grain in a nice, neat way, but randomly into some sections and not others. So it wasn't looking so hot.
Then, my cat jumped up on the top and his claws scratched off some of the paint.
I touched that it up, and then 2 days later he did it again and more paint knicked off. Darn cat!
Typically, Fusion doesn't knick on me with something as minimal as a cat claw scuff. But the paint on the top was just not wearing well.
So remember when I said above that I was pretty sure there was still some grime left on the top when I finished cleaning?
Well, that came back to haunt me!
Whatever icky stuff was still on that top was keeping my paint from adhering well and I knew I couldn't sell this coffee table like that!
So there's a little lesson!
If you at all think that there is still some grease or grime on a piece, keep cleaning it until it feels squeaky clean before you paint!
In my experience, 99% of the problems people have with paint adhering well to a surface has to do with the surface not being thoroughly cleaned–something was still on there that reacts to the paint and keeps it from sticking like it should.
So to solve my problem, my husband graciously offered to take the orbital sander to the top and sand everything off.
I wasn't liking the way the wash was looking anyway on the top anyway, so that seemed like a good plan!
Once it was all sanded off, it turned out that the patterned wood top WAS real wood after all! And it looked so beautiful!
I decided to switch to Plan B--re-stain the top instead of paint it. But I needed a stain that would fit with the distressed, washed, gray shabby finish of the base (which I was really liking!).
I didn't want to go too dark–that would give the table a more formal feel–so I decided to use the Stain & Finishing Oil in Driftwood.
If you've never used this product, let me give you a quick breakdown.
It's an oil-based, non-toxic stain that both stains and seals in one step.
It has minimal odor, so you can use it inside without stinking up your house, and it's highly concentrated so one of these little jars goes a long way!
And if you like using eco-friendly products, this stain is about as eco-friendly as it gets–made from plant oils, odorless mineral solvent, and without any toxic cobalt drying agents (common in stains).
It does apply a little differently than other stains, so it takes a bit of practice. It's thicker and oily, so not at all like your traditional water-based minwax.
I used it awhile back on this nightstand, and I just poured some out on the top.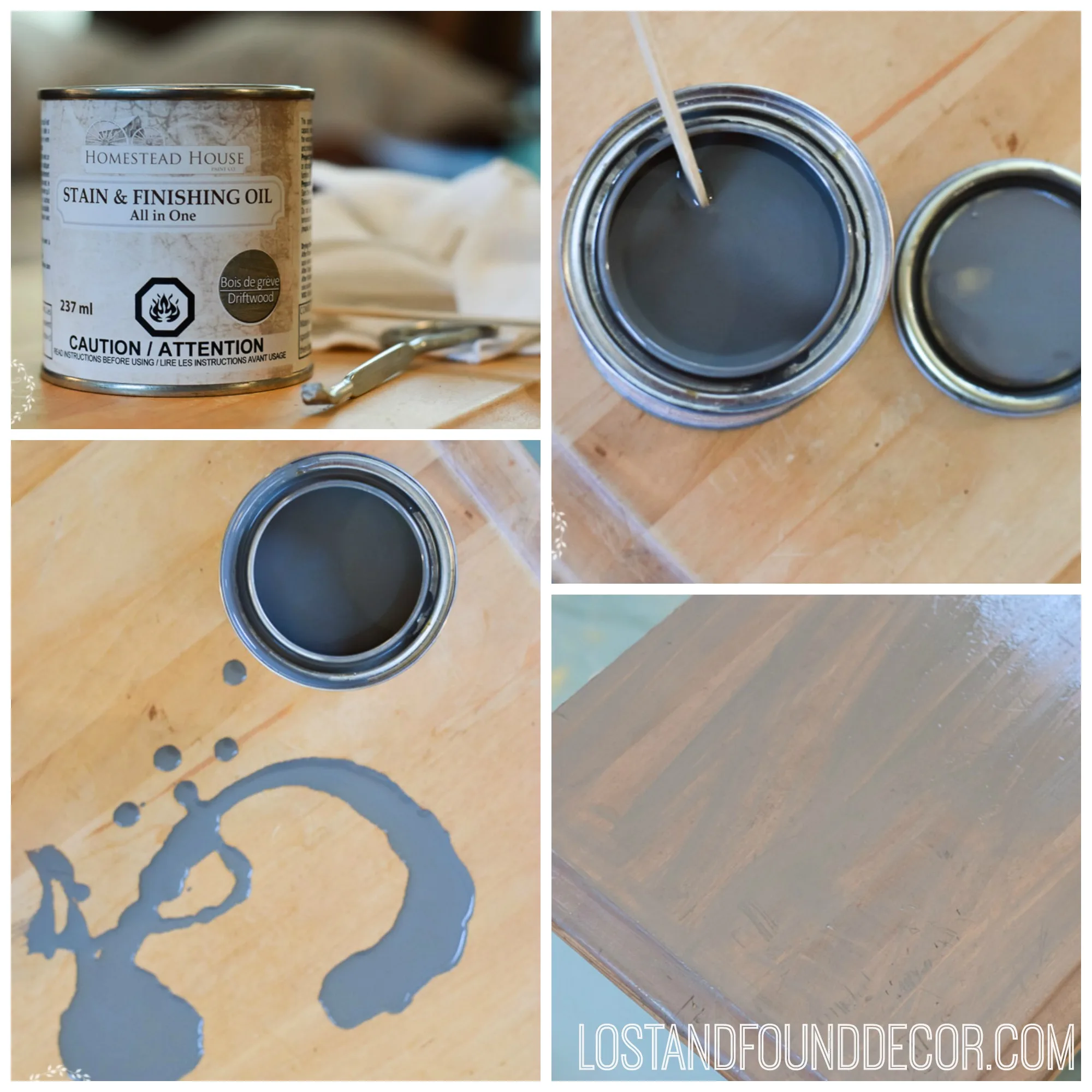 Once it's poured out, you want to smooth it out in the direction of the grain and let it sit for 10-15 minutes.
Then you wipe off the excess with a rag (again in the direction of the grain) and let it dry for 3-4 hours.
This top–with its patterned wood and 20 million different directions of grain–was a little difficult.
But, after working with it some I was super happy with how it turned out!
The Driftwood stain complimented the painted base perfectly and it kept the shabby, farmhouse look I was going for.
So here it is finished!
When I put the wash of Champlain on and then wiped back the excess, I got some great, natural-looking distressing in some areas. I like the effect!
And here is a closer look at the top:
Look at that beautiful, patterned wood! And because the SFO stains and seals, the finish on this top is diamond-hard and waterproof with one step.
This coffee table is available for purchase in my Antique Company Mall retail space for $99.
I hope it's maybe given you some inspiration for how a dark, formal piece can get new life as shabby and farmhouse (without just going straight white!)
Thanks for joining me today!
And as always, if you don't have a local Fusion Mineral Paint retailer, all of the products I used are available in my online shop.
Happy Painting!