How to Wet Sand Fusion Mineral Paint for a Super Smooth Finish
Today I want to show you one of my favorite tricks for getting a super smooth finish on your Fusion Mineral Paint furniture pieces.
It's called wet-sanding . . . and once you try it, you will be hooked!
Wet sanding Fusion Mineral Paint produces a butter-smooth finish. If you're selling your Fusion painted furniture, wet sanding will take your pieces to the next level, and customers won't be able to resist the way the furniture feels when they slide their hand over the surface–Hello more sales!
Be sure to watch the short video tutorial below to see how to do it.
This post contains links to websites outside of LostandFoundDecor.com. These links are provided for your convenience. It does not cost you any more to shop through these links, but does help support this blog. Thanks for the love!
Materials Needed for Wet Sanding
Wet Sanding Video Tutorial
This short video walks through the basics of how to wet-sand. I'll share a few more tips below as well!
Basic Tips for Wet Sanding
Wet sanding is now my go-to way to finish off all of my Fusion Mineral paint furniture.
I wait until at least 24 hours after the last coat of paint is dry before I start. Waiting at least that long is important! If you try to wet-sand too soon, you could wind up pulling off your paint.
I use one of the Fusion sanding pads (I cut them in half!) rather than sandpaper, because the padded back will keep the sandpaper from dissolving over time in the water. Usually, one pad will get me through wet sanding a whole piece.
You want to work in sections, making sure you wipe off all of the residue as you go. Also, keep that sanding pad very, very wet! The water is the key to getting that super smooth finish.
About an hour or so after your finish wet sanding your whole piece, go back once more with a shop towel and wipe down the whole piece again. That will get off any remaining dried paint bits or sanding residue, and leave you ready for a topcoat (if you choose to add one).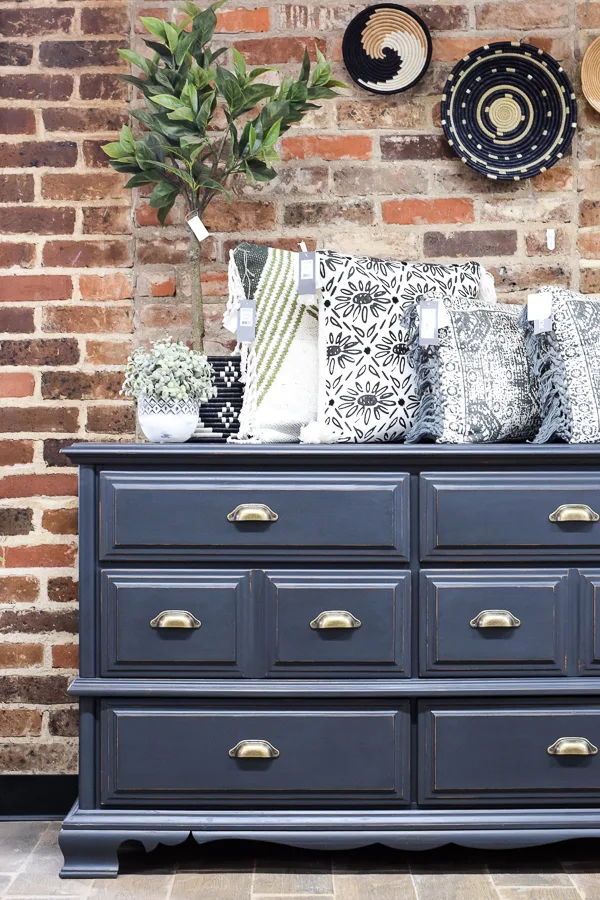 Wet sanding is also an easy way to authentically distress your furniture. Just apply a tad bit more pressure along the edges and any areas you want to distress.
But be careful! It's very easy to take off too much paint or distress in an area where you may not want to! So use very light pressure and wipe back your sanding residue often to check and see if you have distressed to your liking.
What about wet sanding chalk or milk paint?
Wet sanding works well for Fusion because Fusion is an acrylic paint. As Fusion dries, the acrylic hardens and seals the painted surface, so the water can't penetrate fully.
Chalk paint and milk paint are very different though, and this much water on either of those paints will cause just about all of the paint to come right off!
So I would not wet-sand chalk or milk paint with water, unless you want to distress the finish a lot.
You can however wet sand those paints with an oil, like hemp oil. In fact, wet-sanding dark colors of milk paint with hemp oil is one of my favorite finishing techniques.
A Few Warnings with Wet-Sanding
You can wet-sand any color of Fusion Mineral Paint.
However, if you wet sand your darker colors (like the dressers painted in these photos with Ash), it leaves a sort of chalky finish on your paint, and will want to plan on adding a topcoat to take care of that.
How you take away the chalkiness is by adding a bit more sheen, either using the Beeswax Finish of Natural Stain & Finishing Oil.
You can read a lot more about adding sheen to dark colors in this post here.
Also, wet-sanding does ever-so-slightly change the color and sheen of the paint. This means if you have to go back and touch up a spot where maybe you distressed too much, it will be almost impossible to blend in the new paint. You are better off re-painting the whole section, then wet-sanding again.
The next time you paint with Fusion, you should definitely try wet-sanding! You will be amazed at the finish you get and may find your new favorite finishing technique 🙂
You may find these other Fusion tutorials helpful too!
How to use Antique Glaze or Dark Wax on your Painted Furniture
How to Clean Furniture Before Painting with Fusion
How to Sand Furniture Before Painting with Fusion
How to Paint with Fusion Metallics
Happy Painting!