I'm excited to share a new technique with you all today!
I really love old pine furniture (I actually wrote a whole post about it awhile back!), but sometimes the color of pine can be a little too orange for my taste.
I've been looking for a way to tone down the orange finish of pine and now I've found the answer–Liming Wax!
You may have heard it called pickling, whitewashing, or even bleaching–the process of creating that beautiful, subtle, hazy, white finish on various woods (often pine or oak). That practice has been around for centuries, but it's becoming popular again in the interiors world.
It's super easy to get that look with Liming Wax, and today I want to show you how.
I found 3 of these chairs recently at a local flea market–aren't they stunning??! They are pine and full of gorgeous, carved detail work.
But that orange-ish finish . . . Well, it was just a little too strong for my taste. I wanted to find a way to lessen the orange and highlight the carvings, and liming wax was the perfect answer.
How to Use the Liming Wax
Applying wax to a finish with a sealed topcoat is a bit different than waxing chalk or milk paint (if that's been your main experience with wax). Instead of soaking into the paint, the wax sits on top of the surface. So you have to be careful not to apply too much wax as well as not wipe off all of the excess.
For a little change, I put together a video demo for y'all today! I hope it's helpful to actually watch the process of applying the wax.

[video_lightbox_youtube video_id="ydjqeBF2V80″ width="640″ height="480″ anchor="https://www.lostandfounddecor.com/wp-content/uploads/2018/08/Screen-Shot-2018-08-27-at-1.21.44-PM.png"]

Tips for Using the Liming Wax
Only dab a tiny bit onto your brush!
Make sure to push wax into recesses and details to highlight any carvings.
Be careful not to wipe off all of the wax you apply.
Let the waxed surface dry to the touch for 20-30 minutes after you apply, then buff lightly with a cloth until the surface doesn't feel tacky.
If you apply too much wax on the surface, use clear wax to "erase" the area and try again.
Allow the wax on the surface to dry out for a few days before you start using the furniture piece again.
Reapply more wax from time to time on areas of the furniture that get a lot of wear.
After Photos
In the photo, the chair on the left is untouched, while the chair on the right has had the liming wax applied.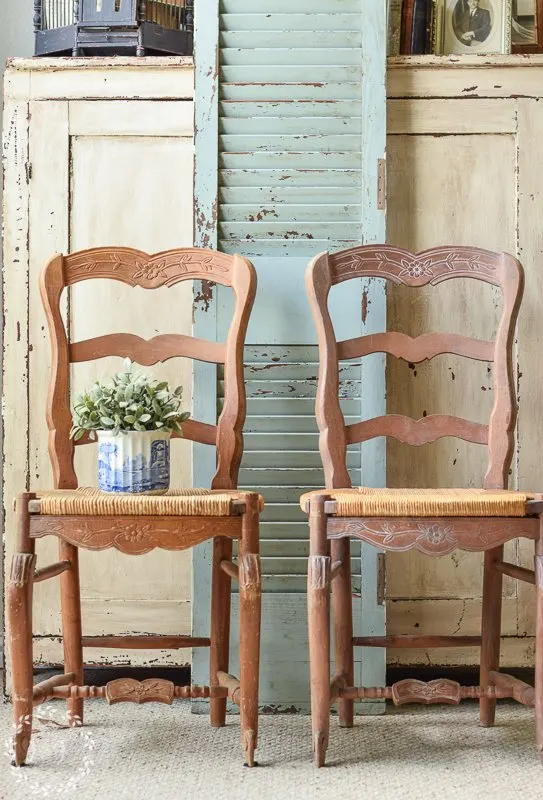 The difference is subtle, but adds such depth and character! And the chair looks much less orange!
I think my favorite part is how the liming wax helped highlight all of the carvings.
I was really pleased with the final product.
I hope this how-to was helpful! Thanks for visiting with me today!
As always, you can shop for Fusion's Liming Wax and the full line of Fusion Mineral Paint products in my Online Shop.