Your kitchen table is one of the hardest working pieces of furniture you'll ever have in your home!
Whatever finish you get on your kitchen tabletop needs to be able to stand up to regular wiping down and lots of everyday wear.
For that reason, staining your kitchen tabletop is usually a better move than painting it–over time, a stained wood surface is going to hold up better than a painted surface will (and that goes for whatever kind of paint you use!)
But let's be honest . . . the process of stripping and sanding down a tabletop to re-stain it can be kind of a pain!
What I wanted to find was an easier way to update a table, but still have a beautiful, wood-look top that also would have great durability.
And I think I've got it! I'm excited to share this makeover with you today because I know you will be able to use this technique to update your own kitchen table using just paint and stain, without the messy and time-consuming process of totally refinishing it.
The Kitchen Table to Makeover
These round oak tables are a dime a dozen at the thrift stores and garage sales here around me (you may have one in your kitchen right now!).
They are great, sturdy tables, but unfortunately, that dark oak wood is not the look most people want in their kitchens these days. It's easy to update the table base with paint, but the top is what is a bit more challenging.
Follow along though, and I can show you how to get a whole new look with just 2 steps!
Materials & Preparing to Paint
The first step is always to properly prep your furniture before you paint.
I start by scrubbing my pieces down with Fusion's TSP to get rid of any grease and grimy buildup (read more about why you should clean your furniture here), then wipe off all the residue with a rag damp with water.
Next, it's good to give your surface and good scuff with some mid-grit sandpaper (180 ish) to give the paint something to grip to. Your sanding doesn't have to be extreme–just 5 to 10 minutes roughing the surface up a bit.
If you're painting a surface that's super slick or that is not real wood (like a wood laminate top), then a base coat of Fusion's Ultra Grip will help your paint adhere better.
Painting Your Kitchen Table
Once the table was prepped, I painted the entire table with the bright white color Casement.
When painting bright white on a dark surface, be prepared to use 3-4 coats to get full coverage. That's completely normal for bright white, in any paint line!
Read more about challenges painting white here.
I believe I painted, in total, 3 coats on the base and probably 2 coats on the top. With the top I wasn't worried about 100% full coverage, since I knew I was going to add another element of color on top.
Adding the Gray Weathered Wood Look to Your Kitchen Tabletop
Now comes the fun part!
Once the paint was dry on the top, I poured directly onto the surface a bit of Fusion's Stain & Finishing Oil in the color Driftwood.
This stuff is really forgiving and easy to work with! And it has a low odor, so you can use it inside with no problem.
Once I got a bit on the table, I brushed it all over using a chip brush, then started wiping it back in long, smooth strokes going all one direction.
I just folded up an old t-shirt in my hand, and ran it along the tabletop from one side to the other, working my way across the whole table.
Wiping it in one direction like this helps mimic the look of grain lines, as your stain winds up being applied slightly unevenly.
Don't worry if the first coat doesn't look so hot! It took me 4 coats in total, waiting 8 hours in between each coat, until I got the look I wanted.
The great thing about the SFO is that not only can it give you this cool wood-grain look when applied like this, but it also is a very durable product.
It is a stain and oil-based topcoat in one product, so there is no need to apply anything else on top to seal the surface.
Four coats on top of the white paint will give the durability of a stained tabletop without having to actually strip and re-stain the whole thing!
Finished Look
Here is the new top–all done with just white paint and stain!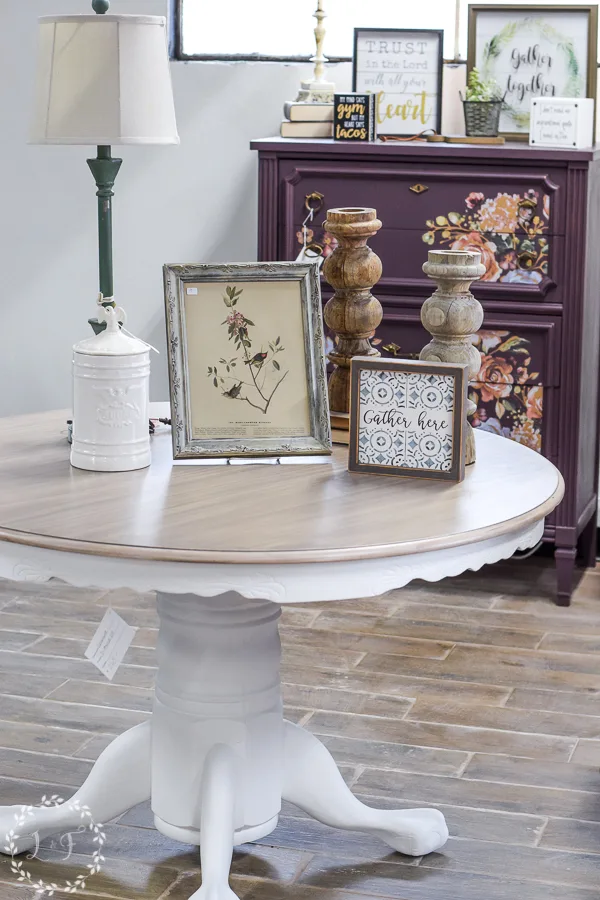 Can you believe the difference? A fresh, on-trend, light wood-look top and all without breaking out the heavy sander or stripper!
The key is wiping off the SFO in those straight lines–and then walking away and letting each coat dry! That's how you get that wood look.
So fresh and clean now, AND durable!
I really encourage you to give this technique a try! It can work on coffee tables, dresser tops, nightstands–any place where you want to create a lighter, wood-look top without stripping and re-staining the furniture.
Pin this Resource!
As always, you find all of the products I used for this makeover at my local NW Arkansas Painted Furniture Studio, or shop with over 3,000 other customers in my Online Shop!
Thank you SO much for joining me today! I hope you give this technique a try!