Who else is excited to be welcoming spring?
Honestly, it's been spring for awhile down here in Texas, but I know for some of you it's just now starting to show up.
In between planting some new flowers and shrubs, getting ready to open a 2nd location, and setting up my Miss Mustard Seed Milk Paint Displays, I've been trying to get a little bit of painting in. My neck and shoulders are finally starting to feel significantly better (it's been about 7 weeks since my surgery) and it feels soooo good to have a paint brush back in my hand again!
In honor of spring, I have a fresh springy color to share for this month's Fusion Mineral Paint Color Focus–Inglenook.
It's a beautiful, soft blue that can look a little minty depending upon the lighting. It's been one of my most popular colors since I first started selling Fusion, and I keep coming back to it over and over again because I enjoy its freshness so much.
To showcase Inglenook this month, I used it to makeover this raw wood nightstand a friend generously gave to me. It wasn't any use to her anymore, so I was happy to take it off her hands and freshen it up a bit.
A pretty basic little piece, with good bones and nice wood to work with. To prep the piece all I did was wipe it down with some Simple Green and remove the knobs. I honestly didn't sand this one at all because the wood was nice and smooth without much of a topcoat, so I was confident the Fusion would adhere just fine.
Inglenook has great coverage, and I used my small round brush to paint on the basecoat. I painted on the 2nd coat with the new synthetic brush, so I could get it super smooth and have a clean line up against the top (which I didn't want to paint–I had other plans for it!).
If you're wondering about the different Fusion brushes and how to use them to get a smooth finish, I have a post planned for next week to talk about that more–so stay tuned!
Now for the top of the nightstand . . .
Have you heard the buzz about the Homestead House all-in-one Stain and Finishing Oil?
It's the newest product to be added to the Fusion line and has been getting a lot of attention online. It's a 1-step refinishing oil that is super easy to use. It has virtually no odor and is free of toxic chemicals, so you can feel good about using it inside around your kids and pets.
I have been wanting to try out the Driftwood color, and so decided to use it for the top of this piece.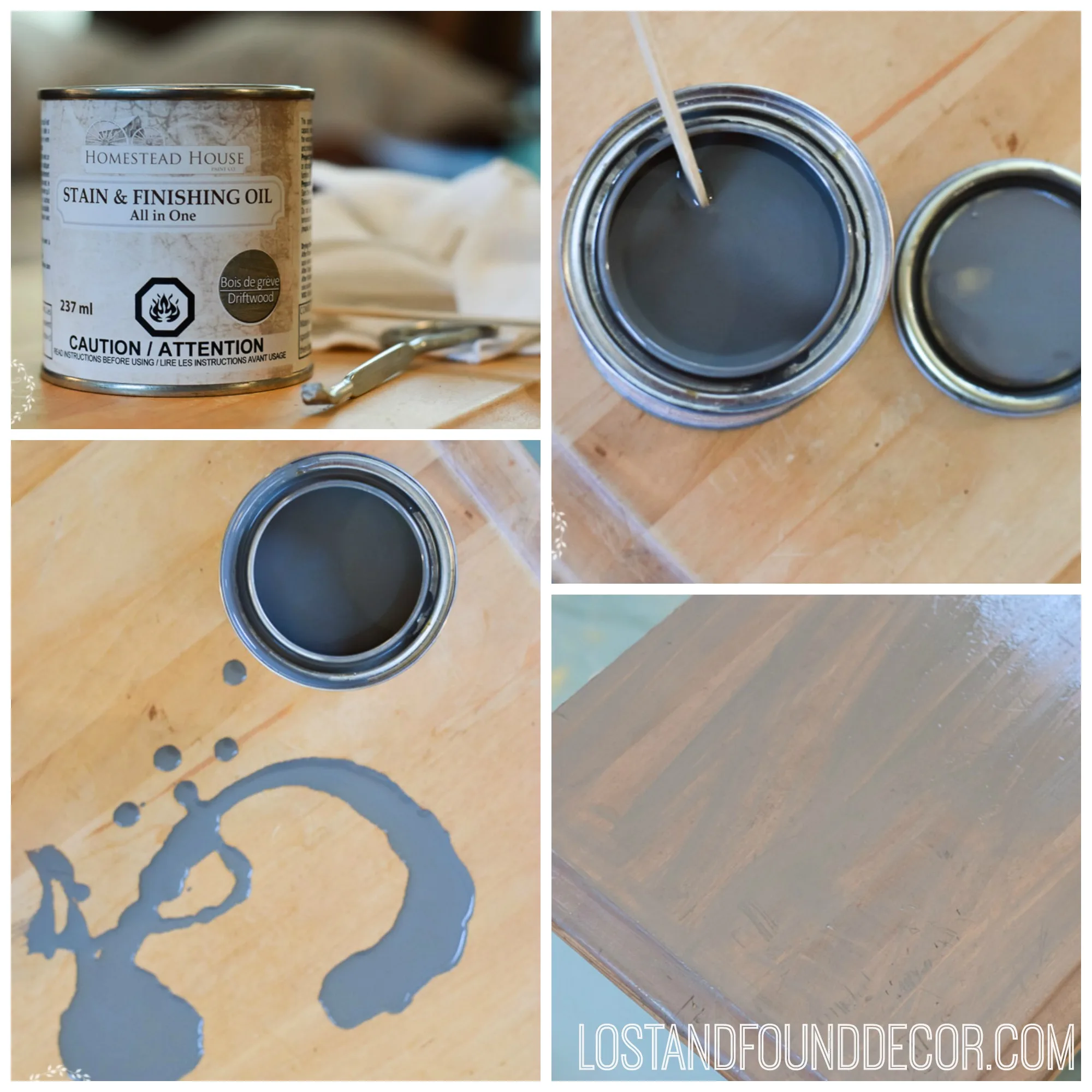 Again, I didn't prep the top at all (besides wiping it down initially). I just poured out some of the stain and rubbed it back and forth using an old t-shirt. It glides easily over the surface and as it dries, the oil penetrates the wood and finishes out the surface.
I let it set for just 2-3 minutes then wiped back any excess. It's a simple as that! No need for an additional finish of Tough Coat or a poly, it's fine as is.
So here is the piece painted and finished out with the new stained top!
Isn't the Driftwood top pretty? No more orangey-yellow wood.
Perfect piece to show how a little paint can totally revive a worn out finish.
Inglenook is the perfect color to add in to your space this season!
If you would like to see more pieces painted in Inglenook, check these out for inspiration:
Inglenook Sideboard by Q is for Quandie
Serpentine Oak Dresser by Team Sutton Designs
Layered Color Blue Buffet by Orphans with Makeup
I have plenty of Inglenook in stock both in my local retail shops and online. As always, if you don't have a local Fusion Merchant please feel free to shop my Online Shop for all products.
The only products I don't have loaded into my Online Shop at the moment are the Stain and Finishing Oils. They have some shipping restrictions that require them to be shipped via ground shipping only, and I'm still working on getting that detail worked out in my online shipping system. But if you want to purchase any of them to try, you can email me at [email protected] and I can invoice you directly for your order and arrange the shipping that way, in the meantime. They are $24 for the 237 mL size, and one is sufficient for one large project or several large table tops. Thank you for your patience as I work that out!