I came across a cute little wooden footstool at a market last week. It was simple and quite primitive, so to add a little flair to it I painted it with the last bit of Flow Blue Milk Paint I had leftover from my desk project.
It was already a cute piece, but the blue made it a really cute little piece. I started playing around to see where all I could fit it into my space.
That's one thing I really love about decorating with vintage items–they can often be repurposed and used in many different ways, including ways that may spark a little curiosity. It's fun trying to discover a new life for an old item.
I've put together my five different ideas for how to make use of a little footstool, in hopes that it may jump start some creative ideas of your own for other vintage items you have in your home.
1. A Garden Bright Spot
Professional landscapers often use large boulders as accent pieces in flower beds and gardens, but have you checked out the prices of those lately? Big rocks aren't cheap! This little footstool adds some color and flair for a tiny cost, as well as adding some height for a pretty flower pot display.
2. Small Side Table
If you have a space in your home where a side table just won't fit, a little stool will do the trick. Tucking it in next to the chair provides a place for books, magazines, or drinks. And you can move it around as you need.
3. Adding Height to a Display
Creating an interesting display means using items of varying height. A little stool is perfect for stacking up books, frames, or this little lamp.
It's also adds a dash of color and texture to the display. I guarantee that this look will spark questions and comments from guests in your home ("Hmm, I would never have thought of doing that!").
4. Seating Spot for Little Ones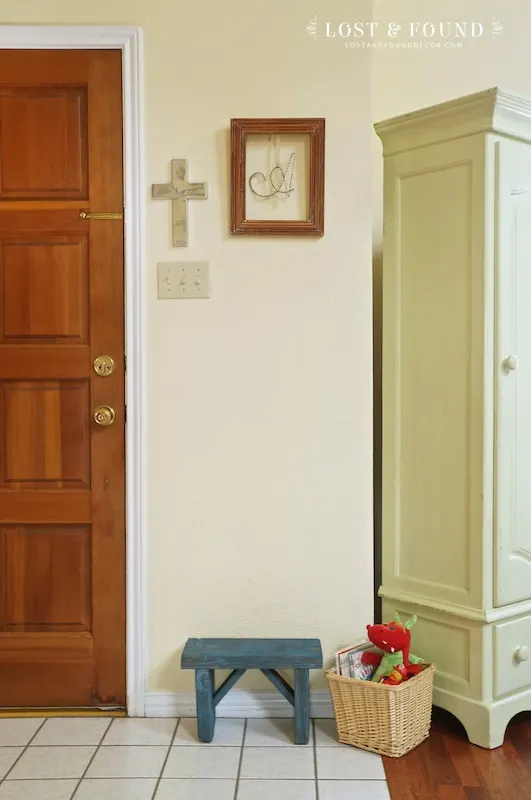 Tell me if this sounds familiar: You're on your way out the door with your child, when you realize you don't have your phone. You tell said child to wait for you at the door while you go look for your phone, but amazingly, when you return with your phone the child is nowhere to be found. So then, you set off on a hunt for your child and in the chaos manage to misplace your phone again. Round and round and round it goes . . . until you are 20 minutes late leaving.
Kids love things that are their size and just for them. So, try creating a seating spot for your little one near your door, equipped with books and a few toys to hold their interest. Once they are ready, tell them to go sit in their special waiting spot and then voila!–they are still there once you've found your phone and are ready to leave. Doubtful it will work? I tried it last night on my two year old, and it was a hit 🙂
5. The Regular Use
After all of this running around and creating, a girl needs a rest. So the little blue footstool can also be used, well . . . as a footstool.
What are some other uses you can think of? Is there a vintage item in your home that you have repurposed and are using in a new way?