Selling painted furniture is all about the before and after. So, I have a good ol' fashioned furniture makeover to share with you all today, yay! I am getting ready for an upcoming weekend market (more about that later), so there will be lots of furniture makeovers coming up on the blog.
I found this lovely little china cabinet at a local market several months ago.
It had some veneer damage on one side and some of its moldings were damaged, but structurally it was sturdy and overall in good shape. It sat in a corner of my living room for awhile while I waited on inspiration to hit.
Often when I makeover a piece of furniture I take some time beforehand looking at photos of similar items online for inspiration. It helps get my creative juices flowing, and gives me an idea if what I'm thinking will work on a piece or not. In this case, light-colored and simple seemed to be the way to go with china cabinets. Because they are larger pieces, bright or saturated colors looked too overwhelming.
I'm generally not one for painting things plain white, so I decided to go with a very light gray in the Fusion Mineral Paint line, called Sterling. To add a little flair the inside would go dark with a deep color called Homestead Blue. (Do you know about Fusion Mineral Paint yet?)
To prep the piece I patched the veneer damage and wiped the whole thing down with Simple Green cleaner. The finish was old and somewhat rough, so I knew it wouldn't need any sanding at all to help the paint stick.
Because I was going from a dark wood to a light color, this was the perfect chance to try out a new Fusion product called Color Blocker.
I really think this is a genius product. Fusion takes all of its excess and waste pigments and recycles them in their wastewater facility to make their Color Blocker.
Basically, it functions as primer that you can apply as a first coat when going from dark to light. It's priced at about half the cost of a pint of regular Fusion–because it's all recycled manufacturing waste products–so, using the Color Blockers saves you $$!
It goes on just like any other Fusion paint, and quite honestly you could use it as a color on its own. The color can be a little inconsistent though, since they're not really going for color accuracy when mixing it together, just more for function.
I ended up using one coat of Color Blocker on the outside of the china cabinet, then once it dried painted on one coat of Sterling. I had to touch up a few places of the Sterling after it dried, but basically it was only one coat.
The Homestead Blue on the interior was a one coat job as well–this color seems to have extra-excellent coverage! After letting it all dry for 3-4 hours, I went back with fine grit sandpaper and sanded the whole exterior to smooth the surface.
I sanded the edges and molding a little more to show their detail, then wiped it all off with a wet rag (remember, Fusion is waterproof!) Here is the final product: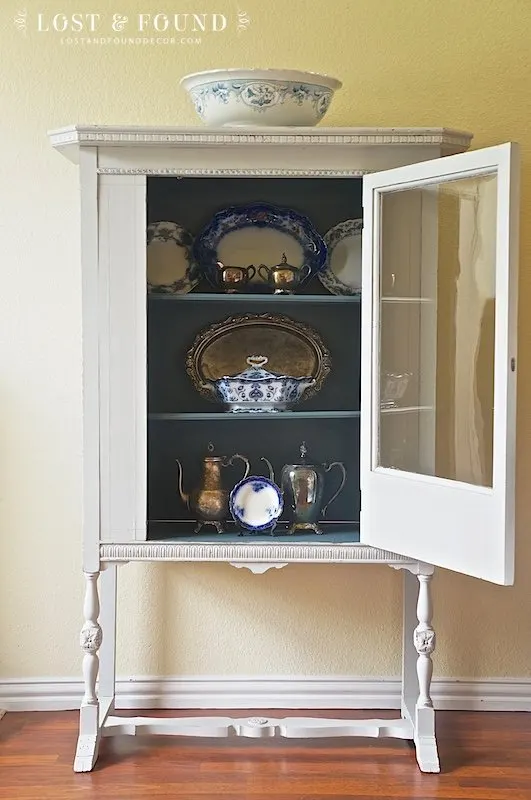 The Sterling is such a light gray that it looks pretty white in these photos. In darker lighting though the gray is obvious. It plays beautifully off of the deep, Homestead Blue interior.
The details on this cabinet really stand out now with the paint and distressing.
If you're worried about being able to distress Fusion, these photos prove it distresses just as well as chalk paint as long as you work on it within its initial drying time window.
I love the detail on the legs of this piece. I don't think it matters that most of the moldings are damaged. The piece has a worn, well-loved look and the chipped moldings fit into its character.
I did not apply any topcoat to this piece because with Fusion no topcoat (waxing or poly) is required. On some high traffic surfaces you can add a topcoat for extra protection, but the finish on this cabinet is plenty durable for the use it will receive. And once the paint is fully cured (after 21 days), the finish will waterproof, stain-proof, and very, very durable.
I just can't stop talking about how much I love this paint! I have another project in store for this week, and I can hardly wait to try out another color.
This cabinet will stay home with me until the upcoming Dallas-McKinney Vintage Market Days. I will be having my first market booth there on May 8th and 9th–yay! I know this piece will be a great focal point for my booth space and will show off what Fusion can do.
If you haven't had a chance to check out April's feature Etsy shop, please do! You won't want to miss the chance to win an authentic French cafe au lait bowl, click here to see the post and giveaway.
Off to a school family picnic, wishes to you all for a wonderful week 🙂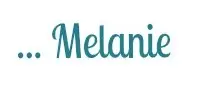 Linking up to: Project Inspired, Wow Us Wednesdays, Furniture Feature Friday