A few weeks ago at one of my favorite local flea markets, I ran into a frequent Fusion Mineral Paint customer of mine. My customer and her husband are actually regular vendors at the market and she was so kind to show me through her booth. I love getting to know my customers better and hearing more about theirs lives and families.
She had this beautiful chest of drawers she was looking to sell that had belonged to her mother, and she offered me a fantastic price.
I'm telling you, this piece is stunning! It's really quite large and so very sturdy–a great example of how they don't make things like they use to!
It has been awhile since I've used milk paint on any of my furniture makeovers, so I decided to pull some out for this lovely chest. To prep the piece I gave it my standard cleaning (a good scrub with Simple Green ) and a light sanding with some mid-grit sandpaper. When using milk paint, if you don't want the paint to chip too much it's a good idea to sand the piece first. If you want the really chippy look, then don't worry about the sanding part 🙂
Another note on using milk paint, keep mixing the paint as you use it. Mix, Mix, Mix! If you don't keep mixing the paint, the pigments will start to separate and the color of your paint will change. This seems to be an issue for me especially when using any of the green or yellow toned colors.
I painted on two coats of Miss Mustard Seed Milk Paint in Layla's Mint (you can see another piece in this color here) and then finished the chest off with a light distressing and a coat of the fantastic MMS Clear Wax. With milk paint, you do have to seal the paint with either a wax or poly, or the finish is very flat and it won't be as durable as you like.
Here is the lovely after:
Isn't that a beautiful color? This piece is ready for spring now 🙂
I forgot to mention that I polished up the original handles too with my favorite metal cleaner–Bar Keeper's Friend. It does an amazing job of cleaning the tarnish off of bronze, copper, stainless steel, you name it.
Because I sanded the chest before painting it, there wasn't much chipping at all–just a few little spots here and there. But the way the milk paint lays on the wood in thin layers with the pigments slightly separating . . . It creates an amazing vintage finish like no other paint really can.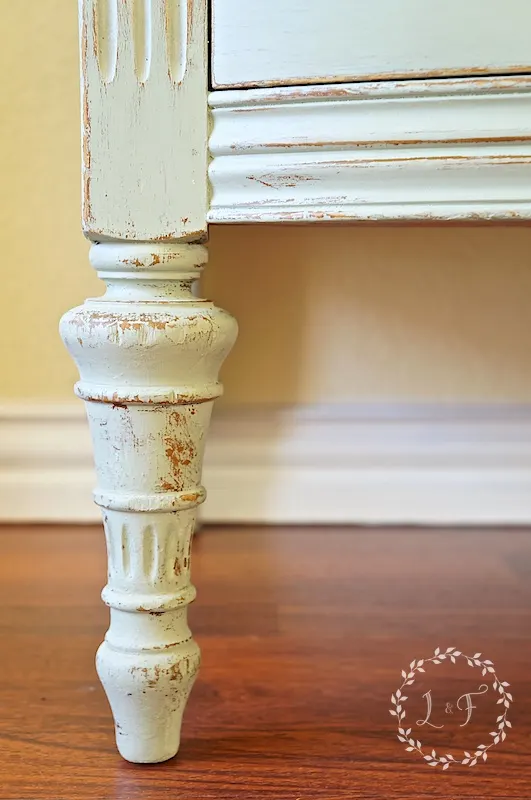 Such pretty little legs 🙂
Thank you for visiting with me today!!
And if you want to try out this gorgeous color yourself, I have it available at my Antique Company Mall Dallas area retail space, as well as in my online shop.
This post contains links to affiliate programs outside of Lost & Found. Links are provided for your convenience and follow all advertising and affiliate link program guidelines.