You probably know Fusion as a furniture paint, but did you know you can also paint interior doors with Fusion Mineral Paint?
You absolutely can! With the right prep steps, Fusion Mineral Paint is a great paint to use when you want to add some extra color and style to your space.
I am kind of obsessed with the recent trend going around of painting interior doors a fun color.
Yall know how much I like using paint to make DIY updates around my house, so why not try out this trend for myself?
Here is my back door that leads onto our patio. It is in the sitting area of our kitchen, which is kind of a fun-styled space.
This door was already in need of a makeover . . . it's so dirty and grimy! But also it's just a boring white–I think it's time to add some color!
Since I have a bunch of Fusion Mineral Paint on hand, I decided to use some to paint this interior door. My goal is to clean it up and add some fresh color, so follow along to see how you can do this in your own space.
I'll share my steps and photos with you, and if you scroll down you'll also find a video tutorial as well.
How to Prep Interior Doors for Fusion Mineral Paint
Like I said already, this back door was grimy.
Years of kids and dogs heading back and forth through this main back door had taken its toll on the finish.
Often times, paint and old finishes will start to disintegrate over time with lots of heavy wear. That's the problem with using cheaper products with lesser quality ingredients (like a cheap latex paint) on surfaces with heavy traffic.
For this door, all that gray yuck you see is actually old paint that is breaking down and peeling off.
The first step whenever you are getting ready to paint something is to get the surface ready to accept the new paint, which means it needs to be clean as a whistle and free of anything peeling off.
Steps to Clean and Prep the Door
Spray down with Fusion's TSP Alternative, then scrub
Peel off any paint or topcoat that is breaking down and coming off
Sand the door smooth
After finishing these steps, you can see the door looked much better!
You can see this process in more detail in the video tutorial below 🙂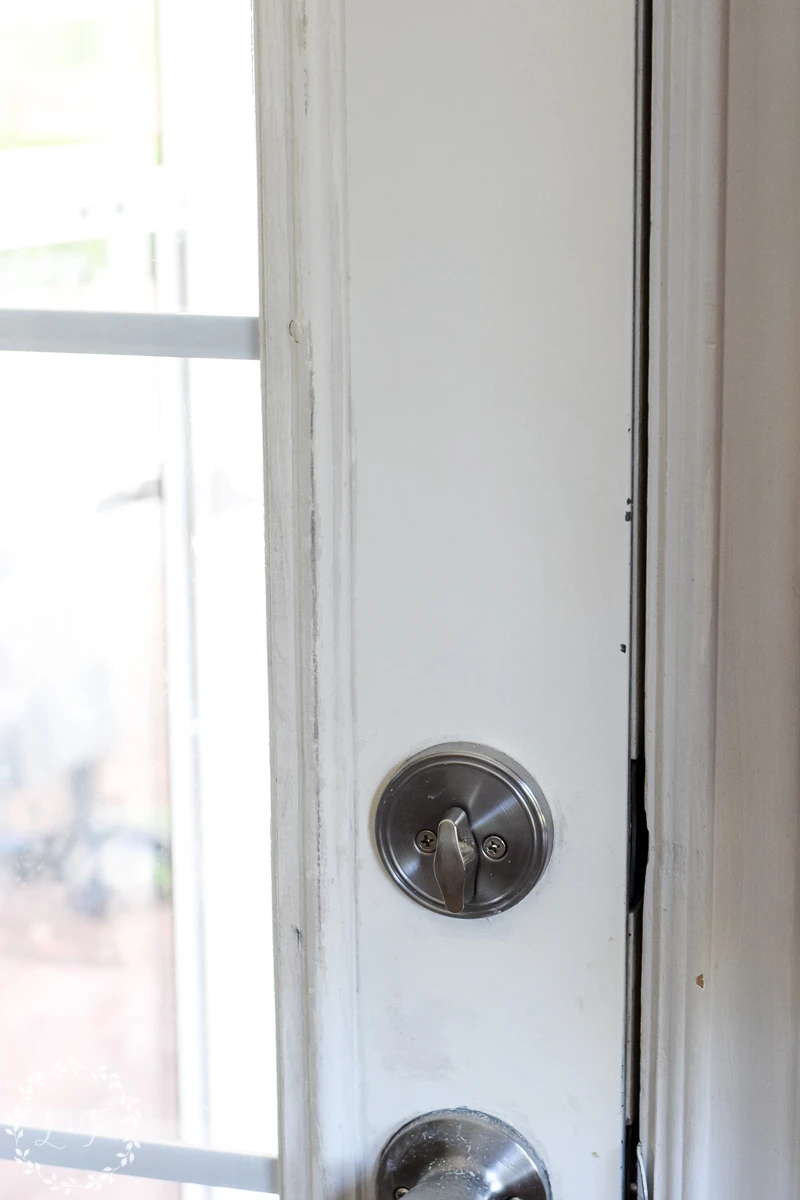 After I finished the cleaning and sanding, I applied a basecoat of Fusion's Ultra Grip to the entire surface of the door.
Ultra Grip is really only necessary when you are dealing with surfaces that can't be roughed up with a bit of sandpaper–think laminate, melamine, or fake wood Ikea furniture.
I used it on this door because the door was a slick metal, underneath the latex paint that peeled off. Also, the trim around the windows is a heavy plastic.
Neither of those materials can really be scuffed up, so I decided to use the Ultra Grip just to make sure I got great adhesion on my new paint.
It's an easy product to use–just paint on a very thin coat, and allow to dry overnight.
What Color Should I Paint My Interior Door?
Fusion Mineral Paint has 50+ pre-mixed colors to choose from, so lots of options!
You can also though mix your own custom shade of Fusion, which is what I decided to do for this door project.
The Fusion Fan Deck is a fantastic resource for so many reasons! But one of my favorite things about the fan deck is that it has 50 custom blend recipes included, and they are all super easy to mix.
I decided to try a light pink for my back door, and mixed up one of the fan deck custom blends. It was as easy as pouring one tester of Ft. York Red into a pint of creamy Plaster.
I used a paint stir stick to mix the red into the cream–and out came this lovely shade of pink!
For your own space, I would suggest picking an accent color in your current decor you would like to highlight. Make sure it will compliment your current wall color, then give it a go!
Steps to Paint
Once I allowed the base coat of Ultra Grip to dry overnight, it was time to start painting
For this type of project, I prefer painting with a flat brush. I work in sections, painting long strokes in one direction.
Now I need to be honest with yall . . . once I got this color up on my door and let it dry, I wasn't 100% happy with it!
It wound up being too dark and pulling off the orange in my pine cabinet and floor tile, which made it look more peachy than light pink.
So I did have to swap out my color a bit, and ended up using a lighter shade of pink for the final coat. You'll see that in the video below 🙂
Do I Need a Top Coat on my Interior Door?
Fusion Mineral Paint has a built in topcoat, so you don't have to put any extra products on it to seal the finish.
However, if you want to make your Fusion painted surface extra durable and even easier to clean, then it helps to add some sheen to the finish.
In general, the shinier a finish is, the more wipeable it is. And since this door sees a lot of action, I wanted to be able to easily clean it with a damp rag.
So I decided to add a topcoat of the Fusion Glossy Tough Coat.
You can watch how I apply the Tough Coat in my full video tutorial below. The key is to brush it on then step away . . . don't overwork it!
Video Tutorial!
Finished Interior Door!
I'm so glad I did this project! My back door now has just that little pop of color and it looks soooo much better than before.
The subtle shade of pink is just enough to give the door a little style.
And I can say that after several months, the paint is holding up great! And it's easy to wipe off and keep clean.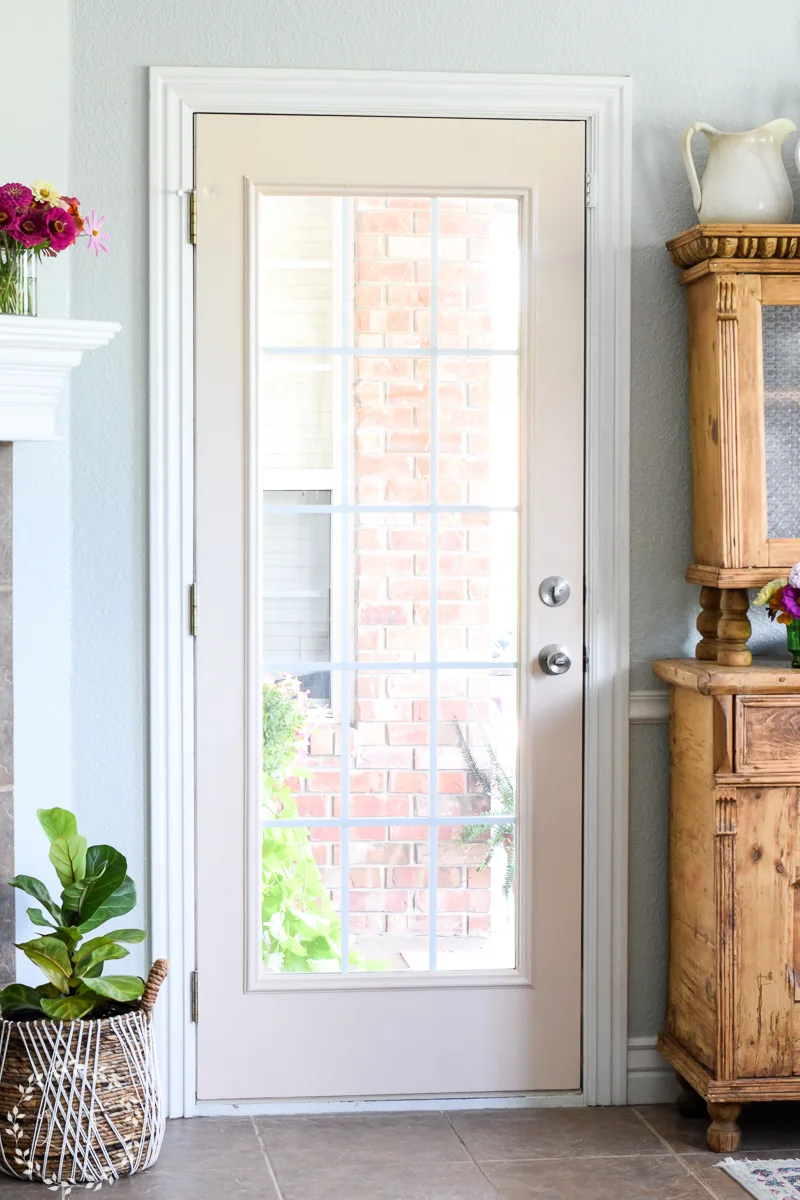 Pin this Resource!
Thank you for letting me share my interior door makeover project with you today! I hope you feel inspired to try adding some color to one of your own interior doors. If you do, please let me know!
Linking up to: