Happy Friday everyone!
Today I am so excited to be the featured shop owner at Coastal Charm's weekly feature "Shop Talk".
When Linda asked me to be the guest for the week, I was honored and thrilled to share a little more about Lost & Found on her great blog.
Please stop by her site today and show a little love!
Now, onto my most recent chest makeover painting with chalk paint.
This great little French Provincial Dixie Chest-On-Chest was next on my list of pieces to finish up and get out of my garage.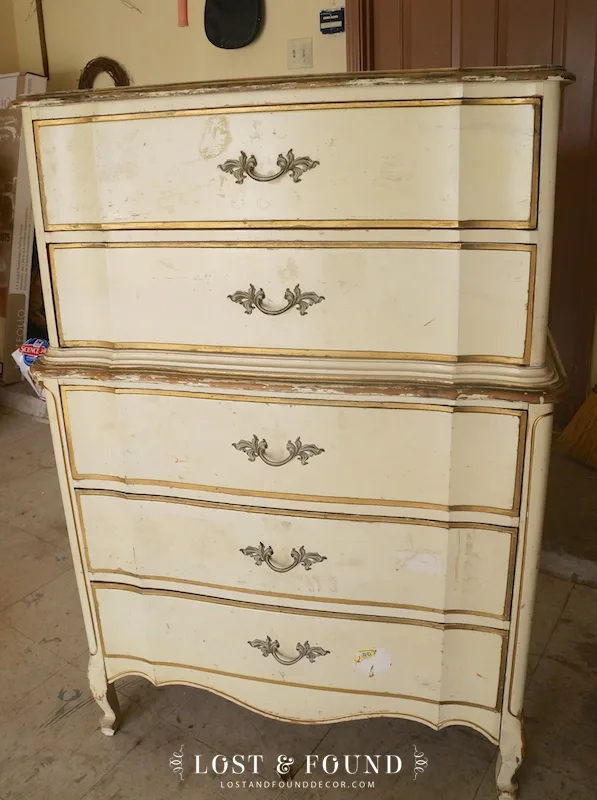 I bought it a few months ago as part of a bigger Craigslist purchase from some folks I found in my neighborhood.
It's a sturdy piece with those classic french provincial lines and drawer hardware, but it's former owner must have been a fan of stickers–they were stuck all over it!
I had to do a little work to get Sponge Bob and his friends off of the drawer fronts. I usually use Goo Gone for sticker removal, but I was out.
So, I tried using a 1:1 vinegar and water mixture.
I just sprayed it on, let it sit for 3-4 minutes, then scraped the sticker residue right off. Worked like a charm!
Since this chest has that classic elegant style, I didn't want to do anything too crazy with it. All it really needed was a good clean-up and update.
I decided to cover the dirty off-white finish with a clean coat of Annie Sloan Chalk Paint Old White, and add some details to the drawers and trim with a little gray and blue.
Here is it in process, with two coats Old White and two coats French Linen on the trim.
I wanted to add a little more depth to the trim, so I dry brushed on some very light blue (the color was Sugar Cane, by Maison Blanche).
Once the painting was done, I realized it needed a little something more.
The last time I used dark wax, I told myself I would never do it again! Well, never say never, right?
Dark wax was just what this chest needed to make the creamy white and dry-brushed trim come together.
I'm still trying to figure out how to do the dark wax well.
I have a hard time with its streakiness on the larger areas of pieces.
But you can see from the picture above that I think it was worth the additional effort.
It really finishes off the chest and adds back some of its vintage elegance.
Here it is with the hardware back on, drawers wiped out, and hauled inside for a photo:
The yucky yellow of my walls doesn't do a lot for showing off the finish of the chest, but you can get the picture!
I am very happy with how it turned out.
No more beat-up, sticker-laden creamy finish, but instead it now has an updated color palette with its elegance highlighted.
I love how the dark wax settles down into the cracks and adds depth.
It also highlights that great vertical line that runs down the drawer fronts.
It looks nice with my rug 🙂
Not so great with my yellow walls (which I'm dying to paint, by the way).
French provincial pieces are so easy to make pretty, especially painting with chalk paint.
Just a little TLC makes all the difference.
Yay! One more piece out of my garage 🙂
Have a fantastic weekend, and don't forget to visit me at Shop Talk!