I hope everyone had a wonderful Christmas! We enjoyed our family time together, although I have to admit I am glad to get back to "normal" today. Christmas day started nice and early in our house, so we were all quite tired.
Before the holiday got into full swing, I was able to finish the antique chest of drawers I told you about in my last post. Yesterday, with the help of my visiting mom, I hauled it inside to grab some staged photos before taking it up to my space at ACM.
Here is what it looked like before.
It was a beautiful piece, but was really scraped up and super dirty. I decided to go with a new color for it, MMS Milk Paint in Dried Lavender, because it just called for something feminine.
The top was sanded down and got a new coat of stain, and here is the final product after another coat of milk paint and some finishing touches.
The milk paint went on really well with this piece, and I didn't do any sanding to prep. For whatever reason I did have some trouble with one side chipping way too much.
But I just sanded it down with some fine grit paper, and painted two more coats on that area. This time, the paint stuck without a problem.
I really like the smoky purple of the Dried Lavender, and how it plays well against the freshly stained top.
Speaking of the top, it was one solid piece of wood, which is the first time I have found that in a piece. Usually everything I work on has a top coat of veneer. It re-stained beautifully.
I highlighted a few areas with a very watered down wash of MMS Ironstone, just to give some added depth.
It had enough stunning detail on it already that I didn't do any distressing, besides the sides of the drawers and a few places where the milk paint naturally resisted.
It was a great piece to work on and I hope that it will find its new home soon.
Now back to catching up on laundry, dishes, and all that other stuff that was set aside during the holiday!
Linking up to :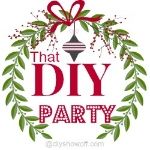 Read more at http://diyshowoff.com/2013/12/29/diy-party-2/#Qqwjc71dEKPsS2Te.99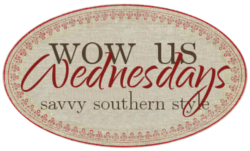 /