I've always been a dish girl. I love collecting antique china, and it was one of the first antique collection areas I learned about when I was just out of college. A more seasoned dealer recently told me that the dish market "died with Ebay". Apparently, antique china isn't worth what it used to be. But I don't mind that quite so much, I collect it for its beauty and versatility. I love hanging dishes as decor, but I also enjoy pulling them out to use on occasion. A beautiful antique platter or set of cups and saucers just seems to make an everyday event feel special.
I inherited two sets of china from my grandmother. One is a beautiful set of dessert china, that was her grandmother's. Another is a more modern set, but so pretty to use at Christmas with its red and gold accents. I think my grandmother had 5 sets of china when she passed away, along with a 12 place setting of solid sterling flatware. My grandmother was born in England, so that probably explains her love of fine dining pieces.
The first china I collected on my own was Johnson Brothers Old Britain Castles.
There was a dealer at an antique mall who had the whole set for sale in individual pieces. Each time I had a little bit of spending money, I would buy a few pieces. I wound up with 4 dinner plates, 2 salad plates, and 4 cups & saucers.
I love the contrast of the red on the white, and the scenes of old England. I wish I could have a picnic on the grounds of Blarney Castle.
The scalloped edges of the salad plates I find particularly beautiful.
As time went on, I started using less and less red in my decor. I still love my Old Britain Castle plates, but I've found myself drawn more to blue china.
My bowl and pitcher set are unmarked, so I've never been sure who the maker is. It's got a good crack in the bowl too, but that was why it was affordable! It was the first blue piece I bought after my years of collecting red. It makes its way into a lot of my furniture makeover photos. But right now, it's doing a beautiful job holding my Valentine's tulips.
Most recently, I started collecting Flow Blue china. I didn't know much about flow blue until I stumbled across a china dealer at Canton a few months ago. I picked out from his collection this beautiful, but cracked and crazed platter that had a deep blue floral pattern all across the front. He quoted me what I thought was a crazy price on it, following it up with "That's a real flow blue!"
After I got back home, I looked up some information on flow blue to figure out why in the world that platter was worth so much money. I still think his price was crazy, but I understand now why it was a prized piece.
My husband hung up some shelving in my office area, and as I was thinking about what to put in the shelves all I could see was flow blue. I found my first piece at my own antique mall, and have since found a few pieces at garage and estate sales.
There not on the shelf yet because I need some other sizes and types (casseroles, sugars, pitchers, etc) to make an interesting arrangement. But they make a bright display now on what was an awkward wall in my living room.
This piece is the Lakewood pattern from Wood & Sons.
It's in almost mint condition and was a steal at a 50% estate sale day. Most of the gold leaf detail is even still there.
I found this pair of M.C. Meakin Virginia patterned dinner dishes at a garage sale around the corner.
Their finish is super blurry, but I love how it makes that scene of old Virginia look almost dreamlike.
From what I have read these cobalt blue patterns are the most collectible, but I like the inky blue pieces also.
Collecting the flow blue isn't quite as affordable as the Old Britain red transferware, so it's going to take me a little while to grow my inventory. There is plenty of it available on Ebay, but that kind of feels like cheating, you know? I want to dig it up myself, find it at flea market or in someone's garage sale where their getting rid of grandma's old dishes. It's more fun that way.
I'm not sure if I'll go back to the red, my style continues to evolve. One day I might wind up with the plain white ironstone, but for now I like the added flair of the colorful patterns.
If you come across any great pieces of flow blue in your digging, please let me know. You may have a willing buyer.
Cedar Hill Farmhouse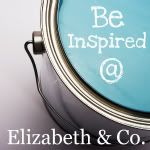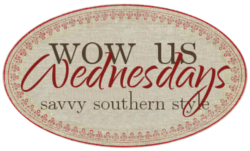 Common Ground
Treasure Hunt Thursday